MUSIC CAREER HIGH LIGHTS
Over the last 30 years or so I have realized 15 recordings of my own work and in collaboration with other fine players (see MUSIC)
I have appeared as a session player and or producer on over 100 recordings to date including two JUNO winners. HEARTSTRINGS by WILLIE P BENNETT and YELLOW JACKET by STEPHEN FEARING. Check out Complete Junkie Bob's comprehensive site.
2000 arranged,recorded and produced music for a spoken word piece with award winning Magnum photographer, LARRY TOWELL. The piece explores Larry's 12 year experience of living with and photographing old order Mennonites in Mexico and southern Ontario.
1987 performed on the legendary recording THE TRINITY SESSION with the Canadian band COWBOY JUNKIES. have continued to work with them to this day, touring the world and recording. appearances include such venerable venues as THE ROYAL ALBERT HALL, CARNEGIE HALL, MASSEY HALL
1980 Graduated from University of Guelph with a BA in music.
1979 as part of TAMARACK began performing in the canadian folk revue MAPLE SUGAR with GRAHAM TOWNSEND, GILLES LOSIER, PHILLIPE BRUNEAU and other masters of traditional Canadian music.
1978 started Canadian folk music group TAMARACK with James Gordon and Randy Sutherland. Toured extensively with them until 1987. Produced three recordings and continue to work as a session player with the group.
1976 Moved to Guelph began a Bachelor of Arts degree majoring in music at the University of Guelph while continuing to perform music in a professional capacity.
1974 Began work as a professional musician.
1970 Became posessed with all things musical and started buying musical instruments with a vengeance.

MOVING PICTURES
2011 produced and performed the performance piece 1000 FIDDLE TUNES as part of the show AUX OUT at ED VIDEO ART CENTER Guelph, Canada
performed 1000 FIDDLE TUNES at The Guelph Jazz festivals NUIT BLANCHE
completed the commission UNDERGROUND as part of THE MILE SQUARED PROJECT screened at THE FESTIVAL OF MOVING MEDIA Guelph, Canada
2010 a one minute silent version of RINK is selected for the TORONTO URBAN FILM FESTIVAL to be screened on subway platforms in Toronto Canada
a multi screen outdoor installation of THREE PARADES is part of The Guelph Jazz Festivals NUIT BLANCHE running from dust till dawn in an abandoned mill.
2009 produced short film THREE PARADES documenting the "Outstallation" THREE PARADES as part of the 2009 GUELPH JAZZ FESTIVAL
2007 SELF MASTERY produced and selected for the Antimatter Festival of Underground Film and Video, Victoria Canada
the One Minute Film Festival screens it's last four years from dusk till dawn as part of Nuit Blanche in Toronto Canada. Two of Jeff Birds films are part of the screening.
four short films selected for the Vladivostok International Film Festival NEW YORK MINUTE, BODY PARTS, RELENTLESS and FREEDOM DOG DANCE.
2006 NEW YORK MINUTE selected for the One Minute Film Festival in Toronto Canada
2005 BODY PARTS selected for the One Minute Film Festival in Toronto Canada
2004 while touring with the band Cowboy Junkies, began shooting footage for the video JARO
july 2003 directed the shooting of footage for a documentary about the 20th anniversary of the music festival HILLSIDE.
sept 2003 completed documentary RINK premier oct nov 2003 Bookshelf Cinema, guelph Canada.
sept 2002 completed experimental video RELENTLESS, Premiered at the Perimeter Festival Guelph Canada. screened June 2003 The Dawson City International Film Festival, Dawson City Canada . Screened sept 2003, The Antimatter Festival of Underground Film and Video, Victoria Canada. Selected for a juried show at the 2003 Perimeter festival, Guelph Ont. 2007 selected for the Vladivostok International Film Festival
2001 started making short 15 sec ""actualities"" to ease the boredom of touring in a band.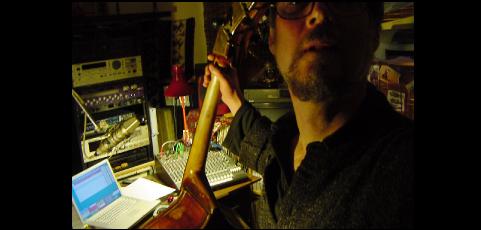 FILM AND TELEVISION SCORING
2011 composed and produced score for the documentary TO MAKE A FARM
composed and recorded music for five short films on Saskachewan artists for THE SASKACHEWAN ARTS COUNCIL
2005 composed and produced music score for documentary HARVEST QUEENS
1998 composed and produced music score for feature film BOYS CLUB with Michael Timmins
1997 composed and produced music score for feature film NIAGARA, NIAGARA with Michael Timmins
1995 composed and produced music score for feature film HOUSE with Michael Timmins
1992 composed and produced music score for feature film SOUTH OF WAWA
1990 composed and produced music score for television series
THE HOBBY GARDEN